News
There are seven entries in the 2023 Radio Play Festival - entry is now closed.
Entry for the 2024 Full-Length Play Festival is now open. It will be adjudicated, between 1st February and 25th May, by Amanda Sharpe-Conroy.
Details are being sent to societies, and the Entry Form and Rules can be downloaded from the
Festivals
page.
There were 13 entries in the 2023 Full Length Play Festival, as listed on the
Productions
page.
The overall winner was Masquerade, for their production of The Lovely Bones by Alice Sebold.
A full list of awards and the marking schedule can be viewed
here: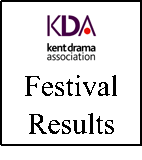 .
The Committee
Chair: Beth Fenton
Vice Chair: Marc Cook-West
Secretary: Nick Cook-West
Treasurer: Tony Newman
Festival Organiser: Marie Quarman
Mike Darbon
Eliot Gannon
Tim Nolan
Linda Russell

Membership
Membership costs between £15 and £35 a year, depending on a society's size.
Contact Us
Privacy Policy
This can be downloaded
here
The Kent Drama Association was established in 1935, to help amateur drama societies in Kent. We run a Full-Length Play Festival each year, and help societies to publicise their productions and to share useful information.